Business leaders talk to NS about the future of innovation in the third installment of our popular webinar series.
In the third installment of Nottingham Spirk's webinar series Keeping Innovation Alive: The Road Ahead, Bill Nottingham led a wide-ranging discussion on both the "new" and "next" normal. His guests were:
The entire episode is available on YouTube. Read below for some highlights.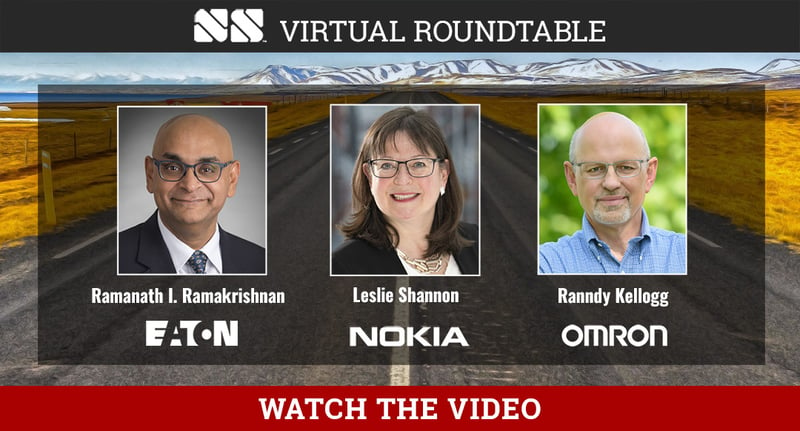 Q: What should corporate innovators be focused on right now?
LS: Listening to your customers, because your customers' needs today are not the same as they were six months ago. Our industry [telecommunications] has actually been quite upended. This was going to be the year of 5G, and 5G rollouts are still going on, except that what's also happening is with all the school kids and workers suddenly at home, all the countries of the world have discovered the gaps that they have in their basic networks, their fixed-line and fiber networks. And so we're getting massive orders for fixed line and fiber that we did not [anticipate].
And so we've had to kind of rethink, like, OK, we still want to put some attention on 5G but we've got to be filling the gaps because that's what our customers need. And if that's happening in our industry, I can only imagine it's happening everywhere… going back to the basics and rediscovering the gaps that were not filled in the previous work.
RK: We have to be able to deliver health care in a much different manner than we've ever delivered it before. Before the pandemic everybody talked about telehealth, but probably 20 percent of people ever did it. And in a matter of a few months we've jumped to 40 or 50 percent of people having virtual visits with their physician. It's really important that we don't lose track of what works for now, in this new reality, because it's probably going to work even better once we get past the pandemic and before the next pandemic if we put it in place, support it, pay for it and really help people get involved. Because it's not just turning on the computer and talking to your doctor. I think we should focus on learning from this crazy situation we're in, and these things that are really helping people, and how do we escalate those and do more of those in the future.
RR: So many of our staff [Eaton] are taking some of these micro degrees, they're getting retrained and they're so proud to post the certificates they earn from a course in Coursera and Udacity. I think there's a big opportunity for corporations to tap into that energy, that excitement and give new assignments, new projects and involve our existing staff in different ways to re-energize and make that learning productive for everybody. I think there's a huge opportunity.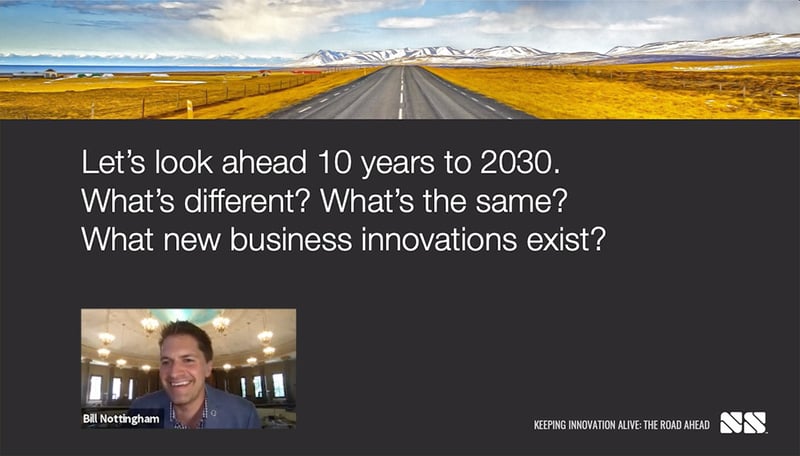 Above: Moderator Bill Nottingham asked our guest panelists compelling questions about the future of innovation in business.
Q: What has happened to corporate innovation spending?
RK: I don't think innovation spending is going to change over the next three years, it's still going to be good. I think we're in a transition period of how people manage their businesses, how they pay for things, how they do everything, so during this change there is a little bit of a pause. I think by no later than the end of this year, things will pick back up. And you'll see the same kind of spending over the three-year period. It just won't be as much in that first year as there will be in the second and third year.
LS: I do see some companies actually letting people go in the innovation department because they're focusing on this gap-filling activity I mentioned earlier. I think that's a mistake, because you know as soon as those gaps are filled, you're going to need to shift back to innovation because the treadmill doesn't stop. It might get pointed in a slightly different direction but advancement and innovation never go away. You've got to keep the creativity going because there's always a tomorrow.
RR: We just announced our second quarter earnings just this morning, our sales in the second quarter is down, 30 percent, as it is for most corporations in the world. But that doesn't mean our investment is also going down proportionally. So there's some good things happening in terms of R&D investment, which is really trying to drive that primary organic growth through technological innovation. But the other piece that we're looking at is we're trying to manage the capex in a clever way so that we can play some bets in the right way. These are some of the dynamics getting played out in a company like ours and in all of your companies as well.
Q: How will business look different in 2021?
RR: Working from home is going to take on a whole different meaning. Speaking from an engineering technology perspective, a laptop is not sufficient for them. They need more powerful computers to do the heavy-duty engineering technology — modeling simulation and all those things. How do we make sure that they get the right tools for the trade, so that they are equally effective, they're productive and they're having a nice, fulfilling career?
RK: There'll be less travel. In the past, if you were going to go see a customer, even for a one-hour visit, you jumped on a plane. You spent money on a hotel, you rented a car, all for [a one-hour meeting]. I think we've learned through this whole pandemic that hey, maybe that video conference isn't so bad. And I can do three of them in a day, versus one. I mean, yeah, we all get "Zoom fatigue," but it's still not that bad. If you're tired at the end of the day, you walk in the other room to your bed, not go to a hotel and try to get comfortable. Your day's over. So I think that's a big win for employees and companies.
Q for Leslie: It's 2030. What's different, what's the same?
One of the things that's most important about the COVID moment is the drive towards digitization that's happening. There are Japanese companies that are creating robots to stock shelves, not because they want to drive people out of the workforce, but they want to reduce the number of people that need to be exposed to things that are dangerous now.
We're going to be actually moving away from these devices like the phones and even possibly laptops. You're going be much more integrated with your environment, with your voice and your gestures. The way that we interface with computers in particular is going to be completely different than today.
CLICK BELOW TO LISTEN TO AUDIO:
Watch the first and second installments in the series.
Subscribe to the Nottingham Spirk newsletter to be notified of upcoming webinar episodes and other dynamic content from the longest-standing innovation firm in North America.
---
About Nottingham Spirk
Nottingham Spirk is an established leader in disruptive innovation, partnering with companies to create thriving new business innovations that propel economic growth. Since 1972, the privately owned company has served as a beacon of innovation for organizations pursuing uncharted territory to accelerate growth and improve life experiences. Learn more about Nottingham Spirk's expertise with disruptive product innovation, as well as our innovation approach.