Global Design News | April 19, 2021
Designers Nottingham Spirk and Ingersoll-Rand blend tradition and technology for a new handsfree, robotic golf caddie unit, providing enjoyment for golfers who walk the course. Club Car's Tempo Walk Robotic Caddie was recently awarded a 2020 Good Design® Award from The Chicago Athenaeum.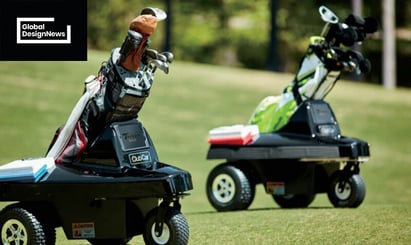 It's like a walk in the park, only better because it's on a golf course. The wireless, autonomous caddie is designed to enhance the golf experience and also foster health and wellness.

"There's been a groundswell of interest, with positive feedback since testing the Tempo Walk at courses around the country last year," said Mark Wagner, President of Club Car. "We're excited to introduce a new technology-driven product that will excite golfers, enrich play and provide a fun, healthy experience throughout their game."

"Tempo Walk complements Club Car's other transportation offerings and reaffirms our commitment to move the game of golf forward, particularly for the thousands of golf courses that attract a significant number of health-conscious golfers and are looking to generate a new revenue stream for their operation," Wagner continues.

For fitness-minded golfers and those who enjoy walking, Tempo Walk delivers a caddie-like experience different than traditional pushcarts, electric or otherwise. For course operators, it's a fresh, functional and environmentally friendly cart option and experience to offer customers.
Constructed with a durable aluminum frame, Tempo Walk contains a lithium-ion battery that holds a 36-hole charge. It moves up to seven mph and weighs 95 pounds. Additional technology features include a USB port and touchscreen tablet with GPS yardage. Traditional golf car offerings – a cup holder, cooler, divot repair and sand bottle, are also included.

With a compact frame size, four Tempo Walk golf caddies can fit into the space of one golf car, another benefit for course operators. These autonomous caddies provide golfers with the enjoyment of walking the course, enhancing play, and fostering health and wellness.
---
About Nottingham Spirk
Nottingham Spirk is an established leader in disruptive innovation, partnering with companies to create thriving new business innovations that propel economic growth. Since 1972, the privately owned company has served as a beacon of innovation for organizations pursuing uncharted territory to accelerate growth and improve life experiences. Learn more about why Nottingham Spirk is a trusted leader in innovation.