Our Process: How We Create Game-Changing Products
Discover
It all begins with deep understanding.
The most innovative designs result from an initial consumer research phase. Rather than turn to outside facilities to get tactical feedback generated from traditional focus groups, our team recruits, moderates, and analyzes data in-house.
We use unique consumer research techniques to reveal the customers' real emotional connections and potential unmet needs to generate new ideas. Consumer research, whether focus groups, ethnographic observations, online qualitative techniques, or quantitative studies, are an ongoing part of the process and guides product development. The result is a product that doesn't just meet requirements but also provides an exceptional user experience.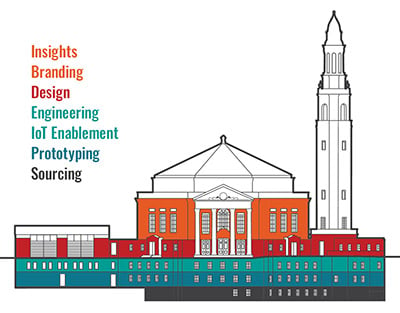 Define
Designers at Nottingham Spirk don't just create concepts, they invent real products.

From the earliest stages, our product designers are thinking not just about form and function, but also cost and customer satisfaction. Their responsibilities take them far beyond their desktop – into the lab with the engineers and prototype technicians, the conference room with clients, and sometimes even to the factory floor. Such seamless integration with the entire product development process ensures that no opportunity to improve on the original design will be missed. It's not the intent that matters, it's the result.
Develop
Engineers at Nottingham Spirk are experienced, "hands-on" professionals inventing a wide range of successful products, from consumer to commercial to medical.
Our engineers are equally adept with high-end CAD and all fabricating methods, including rapid prototyping; they can build almost as fast as they can think. This efficiency allows them to remain calibrated to the balance between art and science – our engineers work closely with designers throughout all steps of the managed invention process – and still maintain the clarity of thought and purpose that gets products to market in months, not years.

As engineering progresses, we identify and collaborate with a trusted manufacturing partner to develop pre-production prototypes. These are tested further through in-home testing (IHUT) or an in-market soft launch. For our client-partners, we provide guidance and support throughout the commercialization phase, ensuring the product is efficiently produced and meets quality standards.