First, you can't focus 100% of your research and development efforts only on your core product lines.
Nottingham Spirk suggests companies follow the same rule Google uses: 70% of your product development efforts should be focused on your core business, 20% should look at adjacent opportunities and 10% should consider areas that are "going to disrupt your business," as John Nottingham put it.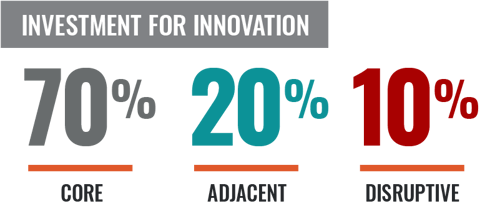 If your company doesn't create that new disruptive product, someone else will, Mr. Nottingham said. "If you focus on it (your core business) 100% and not do the next big thing, you're going to lose the 100%," he said. If Eastman Kodak Co. had followed the 70-20-10 rule, the company might not have been hurt so badly by the rise of digital photography, they said. Years ago, Eastman Kodak should have focused 20% of its development efforts on digital products, which would have been a great example of an adjacent opportunity back when print photography ruled the industry.
As for the other 10%? Maybe the company could have developed something such as Instagram, Bill Nottingham said. Facebook recently bought Instagram for about $1 billion.
To learn more see Crains Cleveland Business