Vertical Innovation® is the alignment of resources and culture. Resources include the facilities and tools that our associates need to shepherd ideas rapidly through the design, testing, and prototyping phases. Culture refers to the intangible elements of the work environment — the flat management structure and flexible, team-based approach to projects. The alignment is possible because we've brought all of this under one roof in our Innovation Center.
By maintaining on-site control over nearly all stages of the development of a product, we remain fully accountable to our clients and maintain momentum. These are key reasons why we are able to bring products to market faster than typical timelines.
When a project lands, we select team members that bring immediate value, whether previous experience, daily life observations, or personality fit, to the problem we will be solving. This cross-functional team stays constant through the development cycle – a prototype technician is involved with uncovering insights, and an insights researcher is involved with go-to-market strategy development. There is constant cross-pollination of perspectives because everyone's feedback is valuable. Details are picked over and assumptions are challenged, so there is a lot of looping within that movement.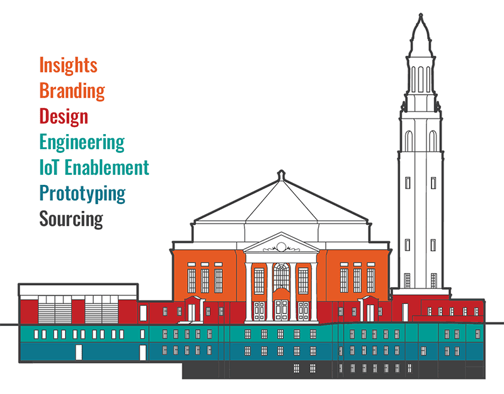 New projects begin with immersion activities. We delve into the category to better understand opportunities and challenges, and uncover insights that help drive concept development. Consumers are crucial in this phase because they get us out of our own heads. The project then moves into ideation, where our industrial designers take the lead and develop a wide range of initial concepts. Once the concepts have been reviewed with our client partners, we conduct qualitative focus groups to better understand a concept's strengths and weaknesses. Consumer research, whether focus groups, ethnographic observations, online qualitative techniques, or quantitative studies, is an ongoing part of the Nottingham Spirk process as it helps vet and evolve concepts through the lens of the consumer experience.
While focus groups often provide us with solid direction, we have learned to listen for the off-beat comments that might strengthen a less than favorable concept. Designers consider the feedback, further refine the concepts, and with client partner input, narrow down the options. We also begin reviewing the concept for patentability.
Engineering plays a large role here by developing CAD files for manufacturing. We have an unprecedented 8,500 sq. ft. prototype lab in the Nottingham Spirk Innovation Center, and our team of skilled craftsmen creates flawless prototypes that help the concept come to life. These prototypes are shared with our client partners and consumers to substantiate the concept.
As engineering progresses, we identify and collaborate with a trusted manufacturing partner to develop pre-production prototypes. These are tested further through in-home testing (IHUT) or an in-market soft launch. For our client partners, we nurture and provide guidance throughout manufacturing. And throughout this entire process, our branding team is watching; they conduct naming exercises, develop brand strategy, and collaborate with designers to develop structural packaging and merchandising for a differentiated product launch.
While this explains the process for a "typical" project, no two Nottingham Spirk projects are alike. The common thread in every program is the combined goal of balancing business objectives and the unmet needs of the consumer.