A Recap of Bill Nottingham's Trip to the Exclusive Innovation Festival
Andrew Joyce and Bill Nottingham ventured east to the Front End of Innovation (FEI), part of the Boston Innovation Festival in order to share methodology on how Nottingham Spirk approaches innovation and learn about best practices from leading companies like Google, WeWork, JLAB (Johnson & Johnson), Mars Wrigley, Caterpillar, Chobani, GM, and Goodyear. Bill was also prepared to share his expertise in a 15-minute Quick Fire Session titled "Empower Teams with Purpose." But he left with more than he anticipated—a chance meeting with Apple co-founder Steve Wozniak and other key takeaways from some of the biggest names in innovation.
Below, Bill shares a few of the valuable pieces of information he brings back to Nottingham Spirk from the annual innovation festival in Boston.
1. Creativity comes from trust and freedom.
This concept was shared by Ivy Ross, Google's Vice President of Hardware Design. The idea that creativity and innovation are stifled in environments devoid of trust and transparency is not a new one – but the way trust and freedom are fostered can look different depending on the organization.
Wozniak, for example, reminisced to the time he worked for HP. He described the company's policy of allowing associates to use the space for personal projects. This allowed Wozniak and his colleagues to pursue their passions, create for fun and stay energized about the type of work they do every day. Not just a nice perk for employees, but a tactic meant to keep creatives at the top of their game.
At Nottingham Spirk, the same policy applies. Our Innovation Center employs dozens of product designers, engineers and prototype specialists, all of whom are encouraged to use the prototype shop at their discretion outside of client work.
2. How success is defined can be more important than whether success is achieved in the conventional sense.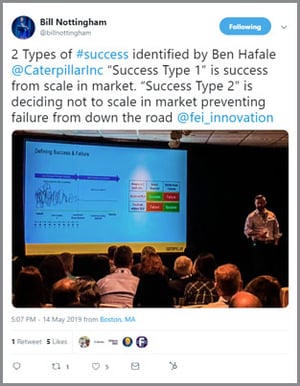 Success is often thought of as financial or economic success—by most, a company is deemed successful if it is viable, generates a profit and proves its longevity. But Ben Hafale, Lean Innovation Manager at Caterpillar, shared his belief that there are two types of success, the second of which is often mistaken for failure.
The first type of success is the conventional type, like referenced above. This type of success is defined by a business's ability to scale. If a business can grow, evolve and continuously innovate to stay relevant and profitable, it is successful.
The second type, however, occurs when a business can't scale, grow, evolve or continuously innovate. When scalability is limited, and the model simply won't survive long-term, success in this scenario is knowing when a business's viability is no longer worth the effort or investment. It's best to fold your hand and try again with another venture. Continuing to sink money and energy into a losing venture with the hopes it will rebound can be catastrophic.
3. Make the meal, not the ingredients.
Cory Clarke, VP of Digital at WeWork, used this analogy to perfectly summarize one of the biggest barriers to innovation in workplaces today. Instead of focusing on the long-term vision, the final goal, workers tend to get caught up in the minute details of the work. That's not to say that details aren't important—but the ability for visionaries to execute and make forward progress without losing sight of their "north star" is an in-demand skill that not many possess, and not many organizations can successful cultivate culturally.
Innovation is often thought of as big, creative ideas. But the truth is, innovation is a discipline. Successful innovation requires careful planning, following process, and not just getting the brightest minds in the room—but the right mix of skillsets in the room to execute on an idea.
One reason Nottingham Spirk has such a high commercialization rate is because of our Vertical Innovation™ approach to business transformation. Vertical Innovation™ is a proprietary process that allows for shepherding ideas rapidly through the many critical phases of innovation: insights, design, testing and prototyping, commercialization, and even product launch and post-launch marketing. The unique way Nottingham Spirk aligns resources—the ability to "make the meal" instead of just the individual ingredients—is key to the organization's successful track record of getting products to market and seeing a substantial return on client-partner investment.
Andrew Joyce and Bill Nottingham are part of Nottingham Spirk's business development team.
---
Have a great idea, but need a little help executing? Drop us a line. We'd love to hear from you.
About us: Nottingham Spirk is a business innovation and product design firm with an unrivaled record of delivering disruptive consumer goods, medical devices, and packaging design solutions to market. We collaborate with Fortune 1,000 companies, funded start-ups and non-profit organizations to discover, design and execute product programs and strategic business platforms that will wow customers, grow markets and generate new revenue streams. Learn more about what makes us different here.