We're asked all the time, "What's next?" That's a hard question to answer; there are too many factors involved in determining which products reach the market and which ones really resonate with consumers. Here are some of the consumer product innovation trends we've noticed in recent years that are likely to remain important for the foreseeable future.
1. Augmented Reality
Virtual reality is immersive. Augmented reality (AR) layers images over the real world, giving it far more potential applications. Some AR devices are already on the market, but widespread adoption has been held back by the cost and, frankly, the oddity of head-mounted wearables. (Remember Google Glass?) Then Niantic introduced Pokémon Go, an AR game that uses a device nearly all of us already own, and virtually overnight an emerging technology went mainstream.
"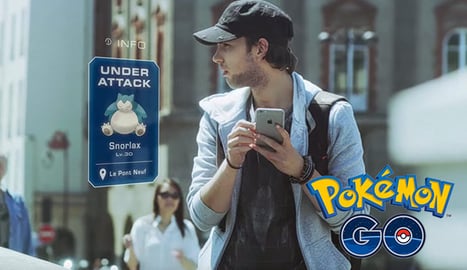 Augmented reality begins with Pokémon," writes Vox.com. "It begins as a toy. But it won't remain a toy. It's going to become an industry, a constant, a coping mechanism, a way of life."
This is not an overstatement. Pokémon Go passed Twitter's users in a week, and the stock price of Nintendo, which owns the Pokémon brand and a piece of Niantic, doubled. Small businesses can use the game to generate foot traffic, for a small fee. The craze has legs (no pun intended).
In the past, marketers were suspect that people would be comfortable pointing their phones at "space" to see AR content. Pokémon Go lays that to rest; if the experience is easy and engaging, they will. The possibilities are endless, even beyond gaming. Imagine museum visits, for example. We're especially excited about the potential for point of sale displays and packaging. As we predicted back in April: "For the next few years, we're likely to see a flood of new products and services based on VR and AR technology. The ones that succeed will be those that solve consumers' problems, improve their lives or provide meaningful experiences."
2. Modularity
Smartphone sales are slowing worldwide. Lenovo is countering not just with lighter, slimmer phones but with modular accessories that add functionality. Moto Mods, according to Forbes.com, are "slick modules that snap on to the Moto Z phones, dramatically extending their capabilities and turning them into new kinds of devices. …They include a JBL speaker that turns the Moto Z into a powerful stereo system; a projector that allows users to beam videos and photos onto a wall, delivering an instant up-to-70-inch viewing experience; and an assortment of batteries and stylish backings. Not on display yet: a module that turns the Moto Z into a professional-quality camera."
Google is taking the concept a step further with Ara, a phone the user builds from the frame up, almost like Lego. The Ara frame contains the CPU, GPU, antennas, sensors, battery and display; the rest will be determined by various limited-function modules that users buy and snap in place. A developer edition will be released in the fall. As Wired puts it, "Google wants to open up smartphone innovation by creating an ecosystem anyone can contribute to."
If these phones catch on, expect to see modularity showing up in other gadgets. Video game controllers seem especially ripe for customization.
But modularity isn't just about customization and novelty; it's also driven by more mundane but real concerns like storage space. The Troy-Bilt FLEX, which we developed with MTD Products, allows people to own all the outdoor power tools they want and still fit them in the garage. DeWalt has taken a similar approach with its cordless system. Brands like these "platforms" because they increase the likelihood of future purchases even more than product lines do.
3. One-click and automated replenishment
When Amazon introduced its first Dash button, for Tide detergent, in 2015, many people thought it was an April Fool's joke. There are now Dash buttons for more than 100 brands, each performing precisely one function: instantly placing an order that will arrive at your door two days later.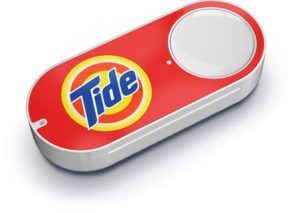 If that still sounds ridiculous, you're either missing the point or just not in a target demo. "This idea appeals to the person who's already ordering most of what they need from Amazon: the college kid," explains Popular Science. "Amazon deliveries are a huge advantage for college kids, some of whom may not have cars, and many of whom live in places where, aside from Walmart, there aren't a lot of easy shopping options."
Besides, as an Amazon spokesperson told the Wall Street Journal, "The real long-term goal is that you never have to worry about hitting that button." Amazon's Dash Replenishment System is built into certain smart devices that can monitor usage, including Brita water filters, printers and pet feeders.
Some manufacturers have already figured out that they don't need Amazon for this. Hewlett Packard's Instant Ink program cuts out the middle man and establishes HP as the defacto retailer of the replenishment materials.
4. Fast-laning
Fast-laning, a concept borrowed from airlines, is showing up in more industries. But airlines have a long history of treating well-heeled customers better; most other businesses need to be mindful of perceptions. Last year a Cleveland-area medical practice surveyed its regular patients to gauge interest in a concierge-style service, offering shorter wait times for a fee. Later, the practice conceded that the idea had been dropped amid overwhelmingly negative feedback. By proposing the system, the office had inadvertently revealed that it's capable of better service but didn't want to provide it without a payoff.
Fast-laning works best when it's egalitarian, like Starbucks and Taco Bell's mobile ordering and no-wait pick-up; Apple Stores' near-elimination of lines for service or payment; and the growing number of movie theaters with reserved seating.
Or when it's fun: "Swedish amusement park Liseberg released an app to accompany its new Helix roller coaster. Attendees could play the free Helix game while waiting in line, and every 15 minutes the player with the highest score got a pass to skip the line."
5. Sustainability
"Fifty-five percent of consumers from 60 countries around the globe say they're willing to pay more for products and services from companies committed to making a positive social and environmental impact." That was the key takeaway from a 2014 Nielsen survey on brands and social responsibility. Last year a multi-sector survey by public relations firm FleishmanHillard showed that "the way a company's management behaves, and its impact on society, accounts for nearly half of what shapes people's perceptions and beliefs about the company." The firm identified nine broad "drivers of authenticity," which included care of environment and community impact.
Virgin Airlines recently experimented with ways to get pilots to be more aware of fuel use. And that's great, but some companies are setting the bar much higher.
"Whichever way you do the math, incrementalism and efficiency measures won't get you there. Less bad is not good enough," said Hannah Jones, Chief Sustainability Officer and VP, Innovation Accelerator of Nike, at the Copenhagen Fashion Summit in May. Jones described Nike's "moonshot ambition: Can we double our business, while halving our impact?"
Conservation is a given; innovation is now expected. Like a plastic embedded with silica nanoparticles that make the surface so slippery that every tiny drop of shampoo, lotion or detergent slides right out of the bottle. ("When any percentage of a product ends up in the trash," notes FastCoExist.com, "all of the resources that went into manufacturing and shipping it are also wasted.") And the low-tech but clever reusable shipping boxes from stroller manufacturer Joolz. The possibilities are endless.
---
Learn more about Nottingham Spirk's expertise with disruptive product innovation, as well as our innovation approach.
Contact Nottingham Spirk to discuss how your organization can take consumer product innovation to the next level.