© Smart Business Cleveland, May 2017. Reprinted with permission.
Bill Nottingham is often asked to provide a tutorial to companies on how to be more innovative. If only it were that simple.
"A lot of companies say, 'Hey, can you come in and do a brainstorming session. We're going to reinvent ourselves," says Nottingham, vice president at Nottingham Spirk. "We say, 'With all due respect, it's not going to help.' You have to change your culture and be open to thinking differently and it's very uncomfortable to do that. People are set in their ways. They're worried about the next quarter's bottom line or the way it's always been done. A lot of that stuff gets in the way. You have to think about the core mission of what you're trying to do."
Founded in 1972 by John Nottingham and John Spirk, Nottingham Spirk has developed hundreds of patented products that have generated more than $50 billion in sales for companies that lead their respective industries and for fast-growth entrepreneurial firms.
"For the past four decades, we've been commercializing disruptive innovation," Nottingham says. "We were disrupting before disruptive innovation was a thing."
Nottingham Spirk's first client was a rotational molding company called RotaDyne, a company known for plastic molded bedpans.
"Jo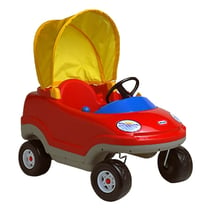 hn and John didn't want to cut their teeth on bedpans," Nottingham says. "They said, 'Why don't you put wheels on it and turn it into a wagon?' and that became Little Tikes. Needless to say, they don't make bedpans anymore. They turned from a custom rotational molder where they were trying to ask for the order to creating their own products. They took their future in their own hands."
Hundreds of products came out of the relationship, including the first plastic molded sandbox, a playhouse, a kitchen set and the Cozy Coupe convertible.
Medical devices, Spinbrush toothbrushes and cardiac vests are just a small sampling of additional products that have been created thanks to the creativity of Nottingham Spirk.
"We're looking for big ideas, transformational ideas," Nottingham says. "When we create new ventures, we're trying to reinvent the world. The thing is, we deliver. A lot of companies think, 'Wouldn't it be great?' Then they pass it off to someone else. We think about things, we patent them, build them, sell them and move on to something else. We're makers."
A Creative Spark
One of Nottingham's favorite stories to tell is the work Nottingham Spirk did with Sherwin-Williams Co. and its relatively new CEO at the time, Christopher Conner. The product concept was the now trademarked Twist & Pour paint container.
"We introduced to him this ideas of reinventing the paint can," Nottingham says. "We wanted to approach him because it could be something he could bring to the company. He believed in us, supported us and ended up developing an innovative solution to paint that had not been done in 100 years. We brought that to them, we collaborated and it became what it became: Twenty-three patents along with the rise of the Sherwin-Williams store and their stock grew like crazy. We feel like we were one of the sparks that ignited the torch and then they took it from there."
Strong Relationships
Nottingham Spirk has built strong relationships with a number of well-known Cleveland institutions, including Case Western Reserve University, Cleveland Institute of Art, Cleveland Clinic and University Hospitals, just to name a few.
"I'm always at conferences and people ask, 'Where do you find all your talent?'" Nottingham says. "A lot of our talent is local. We grow our talent and we support these institutions. It's like a baseball team. You have to have a great farm team. The Indians have one of the best farm teams in the league and it shows. They were in the World Series. We have a great farm team and we support it. We support our community and our partners."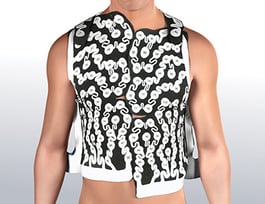 CardionInsight Technologies Inc. is a privately held medical device company based in Cleveland. The company worked with Case Western Reserve and Nottingham Spirk to develop a non-invasive advanced cardiac mapping system to map electrical disorders of the heart.
"Together we created something that will help save lives and help identify heart issues," Nottingham says. "It's non-invasive and the company was recently acquired as a true technology transfer by Medtronic for $93 million, plus a three-year earn out. Medtronic, the Dublin, Ireland-based company, has an office in Cleveland now. It brought more jobs here."
---
Learn more about Nottingham Spirk's expertise with disruptive product innovation.
Contact Nottingham Spirk to discuss how your organization can take innovation to the next level.
---
About us: Nottingham Spirk is a business innovation and product design firm with an unrivaled record of delivering disruptive consumer goods, medical devices, and packaging design solutions to market. We collaborate with Fortune 1,000 companies, funded start-ups and non-profit organizations to discover, design and execute product programs and strategic business platforms that will wow customers, grow markets and generate new revenue streams. Learn more about what makes us different here.