"Without data, you're just another person with an opinion." ― W. Edwards Deming
When it comes to organizational awareness of innovation capabilities and gaps, opinions just won't cut it. With limited resources, leadership must clearly see how to optimize innovation management across the three horizons. Innovation - across all these horizons - is central to growth and sustainability.
- Horizon 1: Nurturing today's profit
- Horizon 2: Developing initiatives and ideas to capture tomorrow's profit and market share
- Horizon 3: Taking part in creating and building a new future

Many organizations (culture/people/strategy) are better suited to incremental innovation rather than transformational innovation. This is reality. When an innovation strategy is developed without organizational awareness of strengths and limitations, execution will grind to a halt.

You'll be hard-pressed to find an organization that isn't placing digital transformation as a priority initiative. Yet business media and news outlets are filled with the struggles of companies navigating that process. According to MIT Sloan Management Review and Deloitte, "mature digitized companies" cite improved innovation capabilities as their main strength.

Improvement starts with awareness. The assessment and measurement of the organization's innovation capabilities deserve a prominent place on the C-Suite agenda.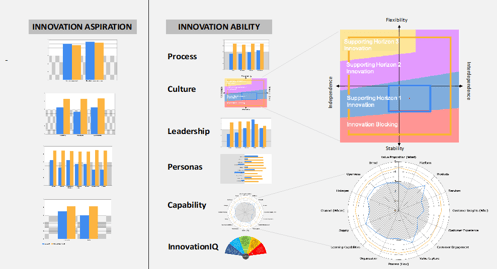 How to Measure Your Innovation Capability

Nottingham Spirk is a licensed practitioner of the Innovation 360 InnoSurvey.

The assessment is a powerful, scalable tool that can assess a company's innovation capabilities, linking them to culture, leadership, and strategy. With this, we are able to deliver a complete 360-analysis of an organization's ability to innovate across 92 critical innovation benchmarks. This provides a tangible baseline for innovation, called the InnovationIQ.

Using a vast, international database of benchmarked data from more than 5,000 organizations, this survey process uses your InnovationIQ to recommend tactical and operational metrics that help you execute with more certainty.

You will walk away from this process knowing your innovation is properly managed across the three horizons of business development, your leadership is empowered to address the gaps and needs of innovative culture, and that your strategy is aligned with every aspect of your organization.
Interested in the innovation assessment? Fill out the form below.