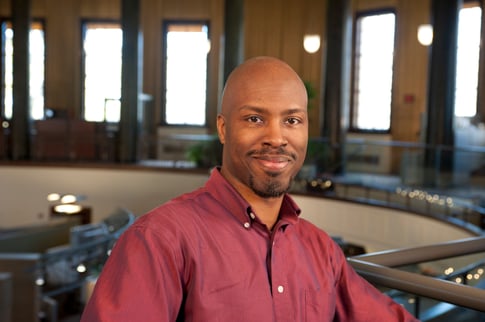 Lindsey Tufts
Designer & Program Manager
Lindsey is a graduate of the Ohio Diesel Technical Institute (now Ohio Technical College) and the Cleveland Institute of Art. Prior to joining NS, he worked at Dan T. Moore Co., where he "wore a lot of different hats," including working on Moore's Team Wendy, designing a new generation of ski helmets in memory of Dan's daughter, who died after suffering a traumatic brain injury in a ski accident. Lindsey also worked at a past NS collaborator, Little Tikes. His hobbies include Kung Fu (he's a third-degree blackbelt in two styles), creating custom model cars kits, mixed-media painting, sculpting, Chicago steppin' dancing with his wife, and building oversized version of games like Connect Four and Jenga for use at his church.
What are you working on?
Well, I can't really talk about it, but let's say that I'm working on new products for consumers from simple designs to technologically advanced products. I'm always thinking about how technology is advancing and where it can go. I also believe, Entertainment is a big part of our existence, and it drives innovation and technological advancement.

Today, we are starting to see immersive and fully engaged entertainment experiences, beyond just seeing, but really feeling the experience. Imagine someday feeling the sensation of the rain without getting wet while watching a movie, and then, being able to watch the same movie from 100 different perspectives or viewpoints.
What do you like most about your work?
I most enjoy creating things that make it to market. I like projects that change my perspective, like our projects with Rug Doctor and Troy-Bilt and Cardio Insight. I like working on new products that give me a chance to do things that I haven't tried before. New challenges let me extend myself a little further as a designer. I like being scared a little bit and challenged to grow.
One product innovation I can actually talk about now is the TRICO wiper blade, which is the first designed to adapt to all the new cars coming out for the following year. When we started this development process, there were 11 variations on how they connected to one wiper blade arm. My colleague Bob Soreo and I visited the client company, and one of their engineers said, "You can't make one solution that will fit 11 different arms." And I said, "Just give me some time." He said, "It's not possible, if it were possible, we would have figured it out by now." And I said, "We will find a way."
Eventually we did come up with a way to make it work. The product is now on the market and has helped TRICO capture another market opportunity that may not have existed if they didn't give the NS team a chance to collaborate with them. I enjoy working that way. Challenges and hard problems intrigue me. Simply put, I like figuring hard things out.
What else interests you professionally, outside of design?
I really wanted to get into psychology at one time, but I just love art and design more. It's interesting to me, how fluid our brains are. When you choose to look at something differently, it's like running a new program that gives you different options for creative development. Hopefully if you don't get in your own way, you can actually unlock expansive growth within you. You can open yourself up to the idea that your evolution in thinking can match the harmony of all things good on earth.

I think about this a lot. Our brains are natural innovators. Through the course of our lives, our thinking will continuously shift and adapt based on our experiences. In innovation, we translate new and existing knowledge into marketable solutions by improving a product, or aspects of a product. Through learning and pre-existing information, we create a better outcome. Professionally, I just want to create things that benefit the world and can continue to be a blessing for generations to come.
What advice do you have for aspiring designers or parents of curious kids?
Exposure is so important. We should expose kids to more, and at a younger age. Kids are smart. I feel like if someone had told me about industrial design when I was 4, I could have been designing products at age 10, and maybe even had a mini design firm by 12 years old. At age 10, I was always making some kind of art or functional thing to sell or use for the kids in the neighborhood (my young design and sales skills at work). We need to expose kids positively to everything as fast as we can. This could show them that collaborative interactions with like-minded people become a fruitful way of human expression. Innovation and design are just primal ways of human expression.
At every stage, it's important to ask questions. I ask a lot of questions because I want to know everything about how a product is going to affect people now and how it will affect the next generation. Design is for people, and since people change their habits and desires, so too will designers have to evolve to meet those new needs. I also don't like wasting time. All we have is right now, so what are you going to do right now? Innovation is about being a trailblazer, forcing or persuading things to happen, evoking something from nothing. I welcome that challenge.
---
About Nottingham Spirk
Nottingham Spirk is an established leader in disruptive innovation, partnering with companies to create thriving new business innovations that propel economic growth. Since 1972, the privately owned company has served as a beacon of innovation for organizations pursuing uncharted territory to accelerate growth and improve life experiences. Learn more about why Nottingham Spirk is a trusted leader in innovation.