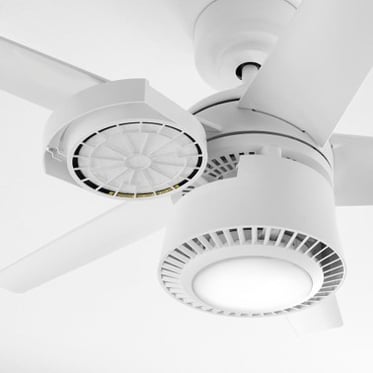 The Hampton Bay Air Filtering Ceiling Fan - a Nottingham Spirk and Home Depot product innovation - is now available in-store, exclusively at Home Depot. Equipped with a HEPA filter and specially designed fan blades to create 360-degree air circulation, this product pushes between 2,797 and 6,247 cubic feet of purified air per minute. This helps to remove 98 percent of pollutants, including bacteria, allergens, dust mites and pet dander.
The Hampton Bay Air Filtering Ceiling Fan is designed with a side-section for ease of maintenance. Here, consumers can remove and replace the filter by sliding it out and putting a clean one back in. Consumers can also extend the life of the HEPA filter by lightly vacuuming it. A replacement indicator light on the fan signals when the filter is in need of cleaning or replacing.
This is a three-speed fan with a remote control, a magnetic lighting kit and slide on mounting bracket for easy mounting, and a dimmable LED light for a controlled atmosphere experience.
---
About Nottingham Spirk
Nottingham Spirk is an established leader in disruptive innovation, partnering with companies to create thriving new business innovations that propel economic growth. Since 1972, the privately owned company has served as a beacon of innovation for organizations pursuing uncharted territory to accelerate growth and improve life experiences. Learn more about why Nottingham Spirk is a trusted leader in innovation.