WKYC visits Nottingham Spirk for a look at our Innovation Center and a game-changing innovation in sewing.
WKYC CLEVELAND — It is a rare look inside Nottingham Spirk, a product design and innovation company where ideas flow from concept to prototype to final product. All of it happens under the roof of a re-imagined 1930s church. It's here the Spinbrush, Swiffer Sweep + Vac, Little Tikes toys, Twist & Pour paint can, and more were born.
"There are things in your house, probably a dozen that we've invented and created here and that you're using and hopefully being delighted by," said John Nottingham, the CO-CEO of Nottingham Spirk.
1,400 patents filed, with nearly all becoming commercialized products. Nottingham Spirk is not slowing down. "Well, Edison had 1093, but he's not filing anymore, so. And we're filing every day," said Nottingham.
How do they do it?
"We look around everyday items and we say, how can that be improved?" said Nottingham. "I guess it's the sickness I always look at things around the house and it drives my wife crazy."

For the next innovation, they set their sights on something unchanged for over a hundred and fifty years – making clothes with paper patterns.

"In this digital age, there has got to be a better way. There's got to be," stated Nottingham. "And somebody's got to do it. We changed the game in patterns and clothing making." Nottingham Spirk's solution? Ditto, a pattern projection system. A website, app, and hardware that projects patterns directly onto the fabric.

"We're looking to just improve that whole process, knowing in the back of our mind that we wanted something that was paperless," said Nottingham Spirk Project Manager Carolyn McNeeley.

Singer and JoAnn – two big players in the sewing world – approached Nottingham Spirk three years ago.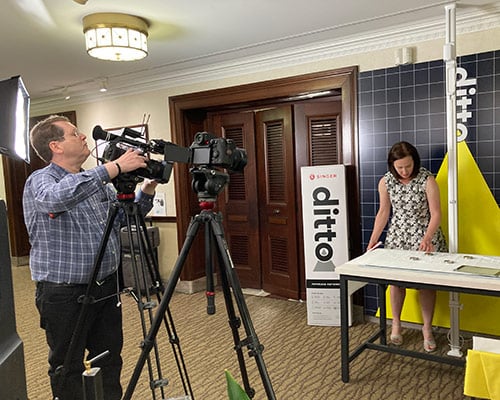 "I didn't know how to sew when we started this project and I really loved the whole process and was having so much fun with it," said McNeeley. "I taught myself how to sew and the dress that I'm wearing is actually a ditto dress."

A tension rod makes the projector set-up easy. A few clicks with your smart device ensures it is calibrated, so patterns will be accurate. With Ditto-enabled patterns, you can add design features and customize 17 different measuring points.
"The patterns themselves are so amazing that they have the ability to make them your own design," stated McNeeley. "You can customize your design and then you can put in your own measurements and make it made to measure to fit your body."
Ditto gets you to the fun part of sewing, faster.
"So, as you can see, this is a very quick process. It allows you to get those pattern pieces done within minutes," said McNeeley.
Nottingham Spirk calls Ditto a game-changer.
"So, we launched it Fashion Week in New York and we blew everybody's socks off," said Nottingham. Ditto premiered at Fashion Week to designers, media, and influencers to rave reviews. "This was an exciting new innovation, something completely different out of the box. And sewists happy to see it," said McNeeley.
So, if you ever wondered what the next big thing is, chances are, it will come from here.

"The only thing left is to innovate and we have to innovate," said Nottingham. "We have to think out of the box. We have to think creatively. We have to change the game, especially with digital enablement. Everything's digital."
Ditto has patterns for men, women, and children's clothes. And allows you to buy third-party patterns as well. Ditto is available now at JoAnn stores and independent sewing dealers.
---
About Nottingham Spirk: Nottingham Spirk is a world-class product innovation firm with an unrivaled record of developing and commercializing disruptive consumer products, medical devices, digital IoT products, and connected industrial products. We collaborate with Fortune 1,000 companies, middle market companies, and funded venture companies to discover, design and execute product innovation programs and strategic business platforms that will wow customers, grow markets, and generate new revenue streams. Learn more about Nottingham Spirk's expertise with connected products.