Ditto's digital projection system brings the first change to paper patterns in over 160 years.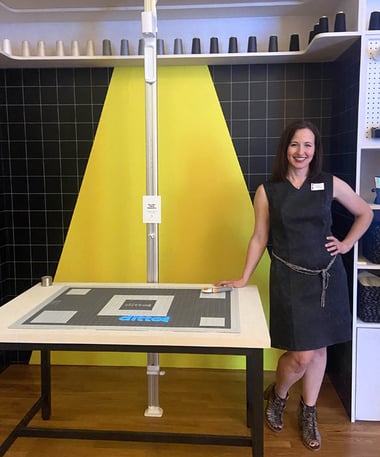 NEW YORK – Feb. 10, 2023 – Unveiled to design schools, sewists and media before New York Fashion Week, Ditto™ introduced the first-ever digital pattern projection system for home sewists. A joint venture between sewing industry leaders JOANN (NASDAQ: JOAN) and SVP Worldwide, Ditto was developed by product innovation firm Nottingham Spirk. Ditto uses digital projection and powerful software to make patterns paperless, customizable, and adaptable to specific body measurements – all in real time. It is the first change to patterns in over 160 years.
"Ditto began simply as an idea to make the patterning process less frustrating, a problem everyday sewists have been trying to solve for decades," said John Nottingham, co-CEO and co-founder of Nottingham Spirk. "Ditto's innovative design and features are a result of a three-year development journey with the Ditto team to explore and understand sewists' everyday needs and 'what if' dreams. With a focus on accurate projection, we made digital pattern projection real, customizable, and accessible for consumers."
Ditto's success comes from the way the entire ecosystem work together – the Ditto projector, mobile app and website to create a precise and highly functional tool.
"Ditto compresses hours into minutes, eliminating the errors, frustration, and time-consuming reality of traditional patterns," said Filippo Robotti, general manager of Ditto and vice president of strategy at SVP Worldwide. "Most importantly, Ditto is a tool to enable creativity. The same technology that accurately and easily projects patterns gives sewists the ability to customize measurements and modify the designs in just a few clicks – a concept that once seemed impossible."
Ditto allows sewists to get to the fun faster. The system:
Creates a custom fit – Pattern dimensions adjust in real time using measurement inputs, reflecting the reality that no two bodies are the same.

Customizes the design – Changing a neckline or sleeve or flaring a skirt or pant leg are all possible in a few clicks.

Is accurate – Ditto has unmatched precision. Once calibrated, sewists can trust pattern pieces are accurate and ready to cut. Ditto also has a splicing feature to accurately handle pieces that extend beyond the cutting mat.

Simplifies setup – From box opening to patterning in minutes, no tools, mounting, or engineering degrees are needed.

Includes a digital sewing gallery (i.e., pattern library) – Hundreds of customizable Ditto patterns as well as non-customizable third-party patterns from top brands and indie pattern makers will be available at launch, with more added monthly.

Saves paper and the space to store it.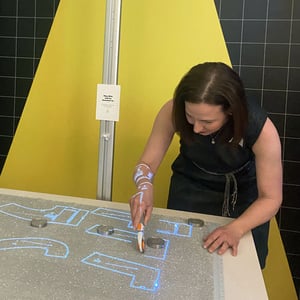 "There are around 35 million active sewists in the U.S. right now," said Nottingham Spirk project manager and lead Ditto developer Carolyn McNeeley. "This group is getting larger and younger – and Ditto really meets them where they want to be met – at the intersection of technology and creativity."
Nottingham Spirk – a business innovation and product innovation firm engaged by JOANN and SVP Worldwide – conducted extensive user research to bring the Ditto vision to life.
Beginning in 2019, they conducted 10 rounds of consumer research with real sewists across the U.S., including in-home observations and prototype testing, plus in-depth online discussions. The team uncovered sewists' pain points with paper patterns and beyond, learning how a product like Ditto would fit into their lives and how it could propel patterning into the future.
Nottingham Spirk's research guided the development of Ditto's system from ease of projector set-up to accurate pattern projection that can be personalized for design and fit. Research uncovered the need to design the system for home set-up in a variety of sewing spaces, from dining rooms to basements. Accurate projection was critical and drove the development of a proprietary calibration process.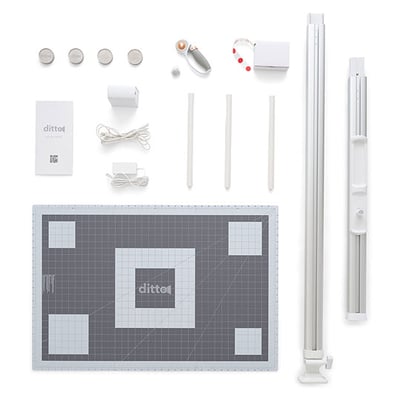 "Every Ditto capability was created for sewists and by sewists, which resulted in a tool that delivers the freedom of expression, the freedom of fit, and the joy of garments reflecting your personal style," said McNeeley.
Ditto retails for $799 with purchase information on dittopatterns.com. Pre-orders began on February 8 at joann.com/ditto. It will be sold at independent sewing dealer locations, at singer.com/ditto and joann.com beginning March 1, and at JOANN stores beginning March 31.
Unlimited, customizable Ditto patterns are available through monthly ($9.99) or annual ($99.99) subscription options or can be purchased individually. Ditto will also offer non-customizable, third-party patterns from major pattern brands, like McCall's, Simplicity, and Butterick, and an array of indie pattern makers like Style Arc, Liesl + Co., Named, and Madalynne Intimates. New sewing patterns will be added monthly.
For more information, visit dittopatterns.com and @dittopatterns on Instagram and Facebook.
---
About Ditto: Ditto™, a joint venture between JOANN and SINGER®, is the first-ever digital pattern projection system for home sewists. Launching in 2023, Ditto combines digital projection with algorithmic intelligence to make patterns paperless, customizable, and adaptable to any body measurements in real-time. The system compresses hours into minutes and marks the first evolution in patterns in 160 years. Ditto is the future of sewing, enabling the freedom of expression, the freedom of fit and the joy of clothes reflecting who you are. Ditto gets to the fun part faster.
About Nottingham Spirk: Nottingham Spirk is a world-class product innovation firm with an unrivaled record of developing and commercializing disruptive consumer products, medical devices, digital IoT products, and connected industrial products. We collaborate with Fortune 1,000 companies, middle market companies, and funded venture companies to discover, design and execute product innovation programs and strategic business platforms that will wow customers, grow markets, and generate new revenue streams. Learn more about what makes us different.