Clients and prospective clients ask us all the time about trends in various industries, bleeding-edge technology and new spins on the innovation process. I don't ever want to be in the position of having little or nothing to say. Reading is one way that I keep up with these topics, but getting out of the office — for trade shows, conferences, and other events — has been even more important.
It's one thing to read about augmented and virtual reality. It's quite another to experience them, as I've been able to at events like the Consumer Electronics Show and SXSW. I've also been able to talk to the people developing these technologies. These visits have helped inform our thinking about applying AR and VR in the real world.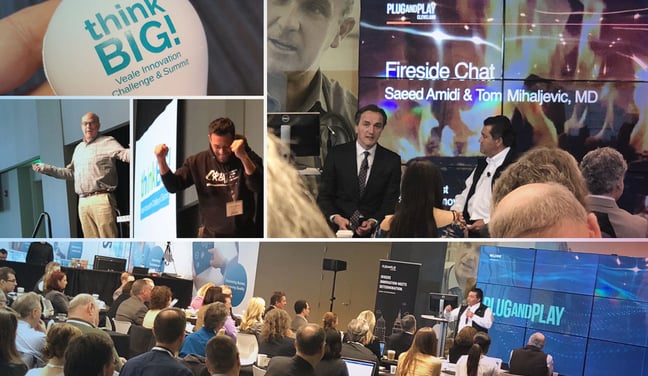 At conferences, we also hear first-hand about the challenges that our clients face, in conversations that might never happen over the phone or even in more formal meetings. We learn how other organizations handle adversity and opportunities. Sometimes we can play matchmaker between executives from companies we've worked with who can help each other.
When I am out of town for multi-day events, I schedule meetings but also leave time to roam and discover. On these jaunts I always find something valuable that I would not have known about otherwise. But even close to home, trips outside the office provide needed breaks from the demands of deadlines and day-to-day operations.
You're probably thinking, "I'd love to get out more, but who has the time?" Marketing consultant Thomas Barta addressed this in a blog post:
When I recently introduced the idea of regular customer meetings to a group of bank executives, one replied, "I'm already working more than 12 hours a day. When do you want me to do this?" … The debate shifted when I asked these executives to each provide confidential estimates of how they spend their work hours, in five categories: 1) driving the business, 2) productive meetings, 3) unproductive meetings, 4) internal emails, and 5) other. You could hear a paper clip drop when we displayed the group results. About 60% of their time fell into the first two productive categories. The rest was spent on largely unproductive activities.
You can do this. If you want your organization to increase its capacity to innovate, you need to do this. Here are some tips to make it possible.
Make delegation a habit
If your presence is vital to daily operations, that's a problem. You might already know that, but acknowledging it is not enough. Speaking at the Montgomery Summit in 2017, Spencer Rascoff, CEO of Zillow Group, said that he likes to "go off the grid" from time to time, and pointedly instructs his team not to contact him for any reason. If a problem arises, his lieutenants are empowered to handle it without him.
"I try to create an environment that allows the team to make decisions," he explained, by making "people and culture" his top priorities. We've written before about the roles that hiring and management style play in fostering a creative environment. They also matter when you're trying to build teams that can function without constant oversight.
Commit early and often
A friend who's an introvert once shared a meme on Twitter that went something like, "That feeling when you realize you made plans for tonight three weeks ago and now you'd rather die than go."
Maybe you know that feeling. But even if you aren't an introvert, you can probably recognize the wisdom of saying yes to intriguing invitations as soon as they arrive. The longer you think about it and the closer you get to the actual date, the more likely you are to find seemingly compelling reasons not to participate.
The Nike slogan "Just do it" turns 30 this year. Why is it so enduring? We are hardwired to seek and discover; it's one of the most powerful mammalian urges. Don't let routine prevent you from indulging once in a while.
Keep a record
As a designer I'm a visual person, so I always shoot photos and videos of my trips, in addition to taking notes. I do this to more easily share information with my colleagues when I return, but these records also help me re-examine what I learned and assess how I can put it to use, right away or somewhere down the line. I'm always amazed at how many fascinating things I saw and people I met purely by chance.
But always remember the two most important letters in business: F/U. Follow-up. Apply what you've learned and make use of those new connections.
As John Nottingham says, "Innovation is not a thing we do on Thursday. You think about creativity, you live creativity. It's not an event, it's a process. Embrace it."

Westfield World Trade Center, an underground mall in Manhattan's Financial District (photo credits: Bill Nottingham).
---
About us: Nottingham Spirk is a business innovation and product design firm with an unrivaled record of delivering disruptive consumer goods, medical devices, and packaging design solutions to market. We collaborate with Fortune 1,000 companies, funded start-ups and non-profit organizations to discover, design and execute product programs and strategic business platforms that will wow customers, grow markets and generate new revenue streams. Learn more about why Nottingham Spirk is a trusted leader in innovation.