Collaboration will produce up to 5,000 face shields per day through injection molding that can be mass produced for a fraction of the price
Health systems across the globe are reporting a critical shortage of protective gear for medical workers, including face shields and N-95 masks. Innovation leader Nottingham Spirk has partnered with researchers at Penn State Behrend, the Case Western Reserve University's Sears think[box] innovation team and local manufacturing companies to create and produce a face shield that will be mass produced for medical professionals who are treating patients with COVID-19. With the capacity to produce approximately 5,000 face shields each day, the team is expected to produce nearly 240,000 shields.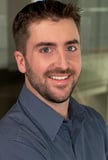 "With the increased exposure risk of COVID-19 and the decreasing availability of protective gear for hospital workers, we knew there was a critical need for protective wear that could be quickly assembled and mass-produced," said Bill Rabbitt, engineer at Nottingham Spirk (pictured at left). "Given our successful history in product design and innovation, as well as our close partnership with Case Western and tenured work with local manufacturers, we were able to assemble a team that could make this a reality in less than a week."
The goal was to adapt a 3D printer model to injection molding in order to scale up production of protective shields quickly. By eliminating any additional unneeded parts that would slow down production and creating an open-source design, the team quickly created a modified plastic face shield with a polypropylene frame and a rubber strap during rapid prototyping conducted at Sears think[box].
The new design creates a shield that is thinner, with components that can be cut on a rolling die machine, reducing the cutting time from 30 seconds to less than one second. The switch to a polypropylene frame creates even more efficiency as the original design was configured for a 3D printer with a minimum build time of three hours per frame. Injection molding takes less than 40 seconds.
"At this time, there is a great need to speed up the manufacturing process," said Jason Williams, assistant teaching professor of engineering at Penn State Behrend. "Our hospital and healthcare workers desperately need these protective materials now."

The polypropylene is also easier to clean and sanitize, making the shield safe to reuse. Headbands produced through traditional 3D printing can be sterilized only in a hydrogen peroxide vapor chamber, whereas the new design can be sterilized in a medical autoclave, which is standard equipment in most medical settings.
"Universities are being inundated with requests to 3D print face shields and other personal protective equipment (PPE), but those materials are difficult to sterilize," said Ian Charnas, director of innovation and technology at Case Western Reserve University's Sears think[box]. "3D printing is great for prototypes, but it is not a cure-all. By adapting the design into parts that are injection molded and die-cut from broadly sterilizable non-porous materials, we pave the way for high production volume and parts that meet hospital sterilization requirements."
The supply chain that will support this innovation includes two Ohio manufacturing and three Erie manufacturing companies, maintaining and utilizing tenured local relationships: Erie-based Port Erie Plastics will build the mold and mold the frames; Erie-based Munot Plastics will produce the shields; Erie-based Bliley Technologies will manage logistics and distribution to the Erie, Cleveland and State College communities; Akron-based R.C. Musson Rubber Company will make the rubber straps; and Cleveland-based Die Cut Products will supply additional clear shields.
In the spirit of collaboration, the team also worked with University Hospitals and MAGNET to ensure durability, sterilization and other refining details were in place before finalizing the mold.
A $6,700 grant from the Erie County Gaming Revenue Authority will accelerate the project which is set to begin production on April 9.
The new face shield can be viewed at www.WhiteLabelFaceShields.com. The face shield pattern is also available for download to the public at no charge for anyone looking to continue the open source innovation and manufacturing.
---
About: Nottingham Spirk is an established leader in disruptive innovation, partnering with companies to create thriving new business innovations that propel economic growth. Since 1972, the privately owned company has served as a beacon of innovation for organizations pursuing uncharted territory to accelerate growth and improve life experiences. Learn more about Nottingham Spirk's expertise with medical device design, as well as our innovation approach.