The recent acquisition of CardioInsight Technologies Inc., a privately-held, Cleveland-based medical device company, will further advance electrocardiographic mapping technology initially researched and developed in the Department of Biomedical Engineering at Case Western Reserve University's Case School of Engineering and licensed through the university's technology management office.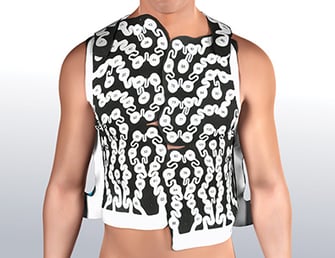 CardioInsight further developed a non-invasive advanced cardiac mapping system to map electrical disorders of the heart. The company's ECVUE system is the first non-invasive mapping system to provide simultaneous, 3-D, multi-chamber mapping and localization of cardiac arrhythmia.
The ECVUE system uses a proprietary, single-use, disposable multi-sensor vest to capture electrical signals from the body surface and sophisticated software to compute and visualize epicardial 3-D electroanatomic maps and virtual electrograms of the heart.
CardioInsight will become part of the major global medical device company.
"This is an exciting time for Case Western Reserve University and CardioInsight for their technologies to become part of a worldwide product line," said Wayne Hawthorne, senior licensing manager in the university's Technology Transfer Office. The university originally licensed the technology to CardioInsight in July 2006.
The electrocardiographic technology was developed at the Case Western Reserve laboratory of Professor Yoram Rudy, principal inventor now at Washington University in St. Louis. CardioInsight resulted from collaboration among several Cleveland institutions and company co-founders Charu Ramanathan and Ping Jia, who both earned doctorates in biomedical engineering at Case Western Reserve.
Michael Haag, executive director of technology management at Case Western Reserve's Technology Transfer Office, described CardioInsight as "a shining example of how commercialization can and should occur in Cleveland" because the company's origination and success resulted from multiple Northeast Ohio resources coming together.
"We have a renowned scientist in Dr. Rudy developing the core concept," Haag said. "TTO partnered with local investment groups JumpStart and Draper Triangle Ventures, along with our own Case Technology Ventures, to launch the initial company. All three of those funds were supported with money from the State of Ohio."
Local entrepreneur Warren Goldenberg became the company's first CEO, helping co-founders Ramanathan and Jia get started. Both Ramanathan and Jia have been instrumental in advancing the company through its various stages and will continue to play key roles going forward.
And the company worked with Nottingham Spirk, a Cleveland-based global product design and business innovation firm, developing the cost-effective vest design and supporting hardware. Nottingham Spirk worked closely with cardiac catheter lab technicians to understand their workflow and create a product that was easy to apply, monitor and care for the patient.
"They helped turn an academic prototype into a robust and well-designed commercial product," Haag said.
---
About Case Western Reserve University
Case Western Reserve University is one of the country's leading private research institutions. Located in Cleveland, we offer a unique combination of forward-thinking educational opportunities in an inspiring cultural setting. Our leading-edge faculty engage in teaching and research in a collaborative, hands-on environment. Our nationally recognized programs include arts and sciences, dental medicine, engineering, law, management, medicine, nursing and social work. About 4,200 undergraduate and 5,600 graduate students comprise our student body. Visit case.edu to see how Case Western Reserve thinks beyond the possible.