HALO, the inventor of the SleepSack wearable blanket for infants, was founded by a couple who lost a child to Sudden Infant Death Syndrome. We were thrilled and honored when they approached us about working together on baby-safety innovations. In our wide-ranging discussions, we got into the issue of "Co-Sleeping" — parents and infants sharing beds. It's a polarizing topic in the U.S., laced with strongly held views about family bonds, psychological development and, of course, safety. Due to an array of challenges stemming from federal regulations and intellectual property rights — not to mention ease of use, comfort, and storage — the project moved up and down our Vertical Innovation process, from design to insights to engineering to prototyping, before the Bassinest™ was ready for manufacturing.
The concept: Bring the safety of a bassinet into an adult bed in a way that's comfortable for babies and parents. But how? The wheeled tables commonly found in hospital rooms provided a starting point for the designers; they offered an example of how two objects with very different designs can fit together without interfering with the function of the other. But overbed tables merely suggested a basic shape. The Bassinest had to hold more weight and move in more ways. The upper portion, holding the baby, had to reach over the parent's bed without ever tipping. That meant that the base had to be wide enough to provide balance, while also maintaining a low profile, to fit under beds and reduce the risk of tripping. Finding the sweet spot required a lot of testing, but we were still only halfway there.
The Bassinest would fail if it just traded old problems for new ones, so the next phase of design and testing focused on creating a truly pleasant sleep experience for parents and babies.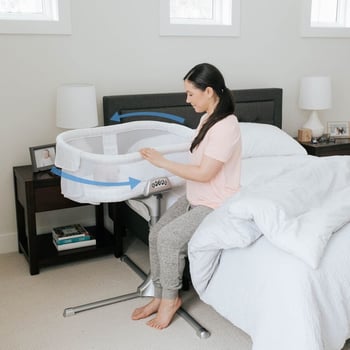 We made it possible to rotate the bassinet independently of the frame, because it's easier and safer to lift a baby whose feet are pointing toward you, especially for a parent who's also lying down. Ease in lifting, or just touching, is also why we wanted sides that could be pushed down. The parent can see the baby without even lifting his or her head. While working out the logistics of that, we studied infant and adult sleep positions to determine the appropriate shape and fabrics for the bassinet. Finally, we added electronics — a nightlight, timer, soothing nature sounds, and gentle vibration setting.
The solution: The HALO Bassinest Swivel Sleeper is the only infant bassinet that moves to bring the baby closer to you. Your new baby can sleep as close to you as you want and still sleep safely in his/her own separate space.
The Bassinest™ won an Innovation Award and was a Judges' Pick at the Juvenile Products Manufacturers Association show in Las Vegas.