MTD (Headquartered in Valley City, OH), owner of Cub Cadet lawn and garden tractors, is partnering with NS to develop new products for the business. Our insights process revealed that among the target demographic — homeowners with large properties — the biggest deterrent to buying tow-behind haulers was a lack of storage space. So the opportunity, and the challenge, were clear.
"I'd love to have one," we heard again and again in focus groups, "but I just don't have room for it in my garage."
Fold-down sides were a good start, but wouldn't suffice; to truly take up less floor space, the yard hauler also needed to stand upright when stored, and without toppling over. We addressed this with a detachable tow-bar tongue which slides into a groove when the yard hauler is tipped into its upward position, providing additional stability. In the storage position the Cub Cadet HAULER is 18 inches deep, and in either the vertical or horizontal format it occupying about 70 percent less floor space than other yard haulers of comparable size.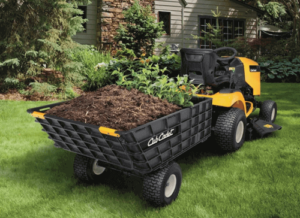 None of this came at the cost of functionality, however. Sides up, the Cub Cadet HAULER can hold 10 cubic feet of soil, mulch, stones, etc., weighing up to 800 pounds. Sides down, the hauler becomes a flatbed for lumber and other odd-sized loads. The hauler body is made primarily of structural foam, a molded polymer that's rugged, durable and lightweight. The hauler weighs less than 100 pounds and pairs perfectly with all Cub Cadet tractors.
For convenience we added a foot-pedal dump release, tool carriers on the sides and a groove for sliding in a partition. We also designed an optional handle bar that allows the user to push the hauler like a wheelbarrow. The fold-down sides also make it possible to package and ship the Cub Cadet HAULER nearly fully assembled. The purchaser only needs to attach the tires, which takes about two minutes.
View Our Cub Cadet HAULER Case Study