We've identified five reasons why an uncertain economy is an ideal time to double down on innovation.
1. Leapfrogging your competition: Your competitors are preserving capital. Continued investment in innovation will position you for success as the economy rebounds. In fact, your competition will be scrambling to catch up.
2. Future-proofing your business: Continuing to invest in innovation allows you to future-proof your business by staying ahead of industry disruptions, technological advancements, and changing market dynamics. It helps you remain relevant and adaptable to changing business landscapes, ensuring their long-term viability.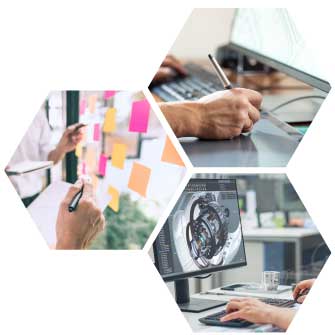 3. Resilience and agility: Businesses that consistently invest in innovation are more likely to be resilient and agile in the face of future economic challenges. Innovation allows businesses to adapt and pivot to changing market conditions, making them better equipped to weather the storm of the next recession and emerge stronger on the other side.
4. Diversification of revenue streams: Innovation can help businesses diversify their revenue streams by exploring new products, services, or markets, reducing dependence on a particular segment that may be affected by economic conditions.
5. Adapting to changing customer needs: Innovation allows businesses to better understand and adapt to changing customer needs in a dynamic macrocosm, offering solutions that address their evolving preferences and demands.
In summary, investing in innovation consistently is important as it provides businesses with opportunities for growth, resilience, and adaptability. It helps businesses stay competitive while also positioning them for long-term success in any economic environment.
Our Unique Development Process Accelerates Speed to Market
At Nottingham Spirk we've invented a unique development process known as "Vertical Innovation®" in which all phases of a project are conducted at our Innovation Center. From stakeholder and market research to product design and engineering to prototyping and testing, everything is handled in-house. This approach has led to multiple disruptive, first-to-market product innovations and a 95% commercialization rate.
To learn more about how Nottingham Spirk's innovation process can drive growth for your company, contact us.