The conclusion of the Cleveland Smart Business Dealmakers Conference earlier this month marked the induction of the inaugural class into the Cleveland Dealmakers Hall of Fame.
John Nottingham and John Spirk were bestowed with this honor, further solidifying their status among innovation leaders. Selected for being visionaries in business and innovative product development, John and John were honored for leaving a groundbreaking impact on organizations, industries, and the Northeast Ohio region over the course of five decades in business.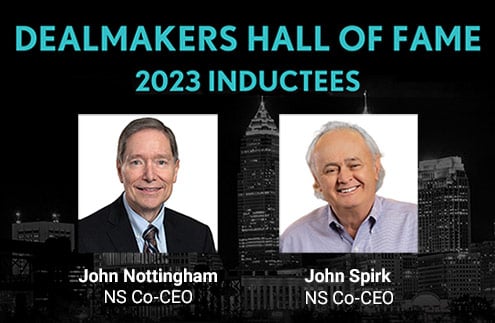 Leaders in Disruptive Innovation
As Co-Founders and Co-CEOs of Nottingham Spirk, John and John are established leaders in disruptive innovation, partnering with companies to create thriving new business innovations that drive economic growth. Since 1972, NS has served as a beacon of innovation for organizations pursuing uncharted territory to accelerate growth and improve life experiences. From our 60,000-square-foot Innovation Center in Cleveland, Ohio, we have developed and commercialized hundreds of disruptive consumer products, medical devices, digital IoT products, and industrial products.
Nottingham Spirk has co-created more than 1,400 patents, of which 95 percent have been commercialized. Our unique Vertical Innovation® process has helped client-partner companies innovate and commercialize products that have earned more than $50 billion in combined sales.
---