Nottingham Spirk joins notable companies like Alibaba, Dell, Etsy, Google and Nestle
Fast Company announced its second annual Best Workplaces for Innovators list, honoring businesses and organizations that demonstrate a deep commitment to encouraging innovation at all levels. Nottingham Spirk came in at No. 87 for its unmatched business expertise, diverse design skills and hands-on innovation that help clients create game-changing products with a 95 percent commercialization rate to make it to market successfully.

Developed in collaboration with Accenture, the 2020 Best Workplaces for Innovators ranks 100 winners from a variety of industries, including computer science, biotech, consumer packaged goods, nonprofit, education, financial services, cybersecurity, and engineering. Working together, Fast Company editors and Accenture researchers scored nearly 900 applications, and a panel of eight eminent judges reviewed and endorsed the top 100 companies—an increase from last year's list of 50. The 2020 awards feature workplaces from around the world with several of the honorees based outside the U.S.
"If you know the Crest Spinbrush, the Swiffer Sweep + Vac, or the Sherwin-Williams Twist & Pour™ paint container, then you know Nottingham Spirk," said Co-Founder and Co-President John Nottingham. "Since 1972, we have served as a beacon of innovation for organizations pursuing uncharted territory to accelerate growth and improve life experiences in the consumer goods, medical device and industrial manufacturing verticals."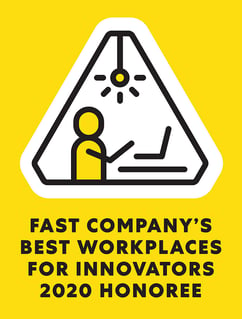 "As much of the world recovers from health, economic, and social crises, we need innovation more than ever," says Stephanie Mehta, editor-in-chief of Fast Company. "This new list of the Best Workplaces for Innovators celebrates organizations that have fostered innovative thinking by investing in technology, research and development, and their employees."
To see the complete list, visit: www.fastcompany.com/best-workplaces-for-innovators/2020
ABOUT FAST COMPANY
Fast Company is one of the world's leading business media brands, with an editorial focus on innovation with deep emphasis on creativity, technology, social impact, leadership, and design. Headquartered in New York City, Fast Company is published by Mansueto Ventures LLC, along with our sister publication Inc., and can be found online at fastcompany.com.
---
About Nottingham Spirk
Nottingham Spirk is an established leader in disruptive innovation, partnering with companies to create thriving new business innovations that propel economic growth. Since 1972, the privately owned company has served as a beacon of innovation for organizations pursuing uncharted territory to accelerate growth and improve life experiences. Learn more about why Nottingham Spirk is a trusted leader in innovation.