In the children's toys category, the long partnership between Nottingham Spirk and Little Tikes ensured a competitive edge.
Their collaboration began in the early 1970s, when Nottingham Spirk, recognizing the untapped potential in the company, helped to propel Rotadyne founder Tom Murdough to change the name to Little Tikes and focus on children's products. Over the course of 35+ years, the combination of the company's existing expertise in rotational molding and Nottingham Spirk's product design ingenuity propelled Little Tikes to new heights, creating innovative, high-quality products.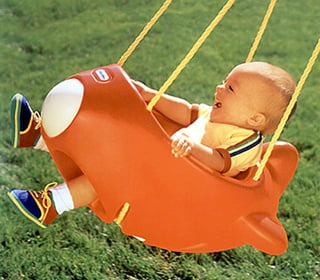 Through their collaboration, Nottingham Spirk developed over 65 patented inventions for Little Tikes and revolutionized the toy market with the first playhouses and kitchen sets made of durable, brightly colored plastic. Additional product lines included large riding toys, sandboxes, outdoor playsets, wagons, and children's furniture. These innovations became the cornerstone of the brand's success, driving its market presence and ensuring a competitive edge.
Before Nottingham Spirk's involvement, Rotadyne was primarily engaged in custom molded bedpans and industrial containers, with sales reaching a modest $1 million. But the partnership paved the way for groundbreaking new products, fueling growth. By the end of the 1970s, Little Tikes' sales had grown to $15 million, then rose to $42.9 million in 1983, creating hundreds of jobs in its Northeast Ohio facilities.
---
The partnership between Nottingham Spirk and Little Tikes is a powerful example of how
collaboration and long-term commitment can drive innovation and remarkable growth.
---
The real turning point came in 1984 when Little Tikes caught the attention of Rubbermaid, a leading consumer goods company. Recognizing the immense potential of Little Tikes, Rubbermaid acquired the company for a staggering $50 million. Nottingham Spirk's contributions to Little Tikes' success were evident, as their collaborative efforts fueled impressive gains and positioned the brand as an industry leader.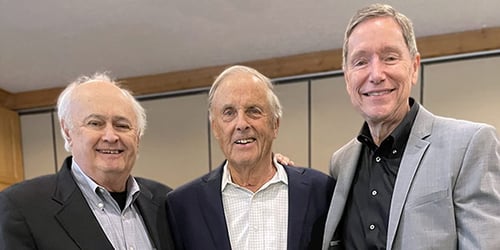 From left: John Spirk, Tom Murdough, and John Nottingham in 2023
Even after the acquisition by Rubbermaid, NS remained an integral part of Little Tikes' product development endeavors. Their relentless pursuit of innovation continued to pay dividends, helping Little Tikes' sales reach new heights. By the year 2000, Little Tikes achieved a milestone, surpassing $600 million in sales, an impressive achievement.
The partnership between Nottingham Spirk and Little Tikes is a powerful example of how collaboration and long-term commitment can drive innovation and remarkable growth. By engaging Nottingham Spirk's expertise, Little Tikes not only transformed its business but also enriched the lives of countless children with toys that encourage active and imaginative play. As the toy category continues to evolve, the legacy of this successful alliance will undoubtedly inspire future collaborations and fuel the next generation of innovations in children's products.

---
About Nottingham Spirk: Nottingham Spirk is a world-class product innovation firm with an unrivaled record of developing and commercializing disruptive consumer products, medical devices, digital IoT products, and connected industrial products. We collaborate with Fortune 1,000 companies, middle market companies, and funded venture companies to discover, design and execute product innovation programs and strategic business platforms that will wow customers, grow markets, and generate new revenue streams. Learn how the NS PathFinder program can uncover growth opportunities for your business.