John Nottingham will take the Paramount Theater stage in Asbury Park, New Jersey on May 18 for the 7th edition of TEDxAsburyPark. Focused on CHAOS, this event features speakers and artists who will be discussing "the void, the unknown, the absurd, the mess, the mystery."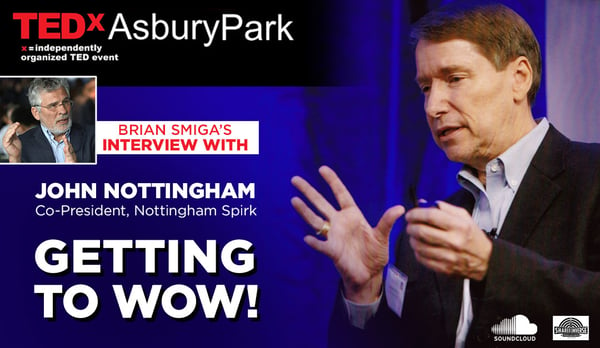 In advance of his TED Talk, John was interviewed by podcast host Brian Smiga to share which big ideas powered his career:
"I had the chance to be an intern at General Motors between my fourth and fifth year in the General Motors Technical Center. When I was there, one of the VPs came up to me and said, 'You know what? Every major idea, every good invention, comes from the outside from little companies, inventors from outside of this place.' It stopped me in my tracks!
And that started me thinking maybe that straight line isn't the way to go. So, when I graduated, I did get the job offer from General Motors, but I turned it down. John Spirk got an offer. He turned his down. We found a garage, and we literally started a company with no money, no clients, no nothing. We just started!"
Listen to the full interview on SoundCloud:
John Nottingham is Co-Founder and Co-President at Nottingham Spirk.
Learn more about Nottingham Spirk's expertise in disruptive product innovation.
---
Contact Nottingham Spirk to discuss how your organization can take innovation to the next level.