As soon as Netflix announced its unlimited parental leave policy for new parents, doubters were quick to predict that the policy would not work. The reason? A version of "Work Martyr Syndrome," according MarketWatch.com: "In competitive workplaces, employees are looking for any leg up they can get, so they think that it will look extra good to their bosses if, despite being given unlimited vacation time, they actually take even fewer days off (or at least take no more days off)."
This probably is not news to you. Last year a survey showed that Americans were taking less vacation time than at any point in the previous four decades. Project: Time Off says that since 2000, Americans' average use of paid time off dropped from more than 20 days per year to 16 — a full work week. MasterCard turned this sad fact into a clever commercial.
At Nottingham Spirk, we started addressing this troubling trend almost three years ago with a solution that matches our culture of "freedom and responsibility." In the past, our associates were provided with what would be considered a standard vacation and sick leave benefit, with set amounts of days per year. In 2013, we replaced our vacation and sick time policies with DPTO, discretionary paid time off. As it's explained in our associate handbook, DPTO is for "vacation, funerals, to handle personal affairs, or for other personal reasons and general rest and relaxation." "Discretionary" means just that — our associates decide how much time to take.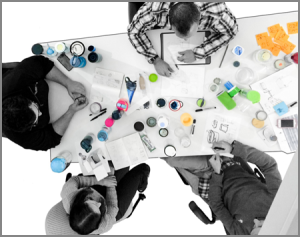 Associates obtain approval from their department resource managers and project team leaders in advance, and like all professionals, they make sure their responsibilities are managed during their time off. The expectation is that DPTO is taken in one-week increments, except under special circumstances, or if the relevant managers and project team managers agree that the longer absence would not be an impediment to client matters.
Our DPTO policy has evolved since 2013, and we've returned to an allocation of fixed paid sick leave for medical-related absences and to provide time to care for sick members of an associate's immediate family. As an additional benefit, the company provides associates with short-term and long-term disability insurance for extended recoveries. Since making these adjustments, associates and the company alike have been able to seamlessly navigate such occurrences.
Collaboration is at the heart of everything we do, therefore, associates are expected to work at the NS Innovation Center. However, our associates may occasionally take part in conference calls, catch up on solo duties or otherwise work on a day off. When this occurs, they are encouraged to report both the DPTO and the billable time to accurately account for time spent "on the clock." We look at both for annual reviews, but a year-over-year increase in time off is not treated as a red flag. We want our associates to travel, to take "staycations" and even the occasional long weekend to rest and focus on other things. This benefits the company and our client partners. Associates who take more time off are often also more willing to go above and beyond when necessary. Clients rave about our associates' responsiveness, and marvel at their speed.
Jason Ertel, a Engineering Program Director, who joined us in 2013, says that the ability to manage his time makes him more responsive to clients.
"In a more corporate company, there is a constant baseline level of work that is always there that prevents you from ever sleeping in and recharging your batteries," says Ertel. "At Nottingham Spirk, however, it's not only the DPTO policy, it's also how NS cuts out the wasteful endless meetings and allows us to work for blocks of time at a reasonable pace. Then when the client needs us to sprint, we can put in 80 or 100 hours and be happy to do it because we haven't already been overworked and we know we have the freedom to recuperate. NS provides the means to work with a good attitude because of the DPTO policy."
After The New York Times published its exposé of Amazon's demanding culture it sparked a renewed interest in work-life balance issues. Billionaire entrepreneur Dustin Moskovitz wrote about his regrets from his days as a co-founder of Facebook:
"I wish I had slept more hours, and exercised regularly. … I wish I had made more time for other experiences that helped me grow incredibly quickly once I gave them a chance. You might think: but if you had prioritized those things, wouldn't your contributions have been reduced? Would Facebook have been less successful? Actually, I believe I would have been more effective: a better leader and a more focused employee. … That's why this is a true regret for me: I don't feel like I chose between two worthy outcomes. No, I made a foolish sacrifice on both sides."
Innovation is demanding, requiring many hours of intense effort. To stay sharp, creative people need to recharge through time spent with their families and on other passions. If you are considering a policy change at your company, and would like to learn more about Nottingham Spirk's experiences, contact Vikki Nowak, VP Nottingham Spirk at - vnowak@nottinghamspirk.com