NS Innovation Perspectives
Innovation Perspectives is a new series of viewpoints from key members of the Nottingham Spirk team. In this first installment, Project Manager Rebecca Blice, MSE Biomedical, shares her thinking on the emerging promise of the Internet of Things (IoT) and next-generation patient care for chronic medical conditions.
Designing for Seamless Care with Chronic Health Conditions
When evaluating and designing in-home solutions for patients with chronic health conditions, the focus tends to be on how best to normalize their lives and routines. The ideal solutions complement and supplement the care regimen — daily treatment, condition/symptom monitoring, and diagnostics — while minimizing complexity and intrusiveness.
Advances in a range of technologies — sensors, electrical systems, digital networks, and wireless connectivity, to name a few — are helping us move new options from leading edge to mainstream adoption, bringing us closer to the promise of seamless, integrated care solutions that benefit everyone in the ecosystem, patients, caregivers, and point-of-care staff.
Wearables, for example, comprise a large and growing part of the consumer electronic market; they're getting smaller, more reliable, and more accurate. Patients with chronic heart conditions, who require daily monitoring, medication reminders, and adherence protocol measurements, will benefit enormously from wearable EKGs. Over time designers will be able to reduce these wearables' profiles, and within five years we'll likely see adhesives — interactive temporary tattoos — with the same monitoring, reporting, and alerting capabilities as today's larger-form technologies.
Ambitious solutions in the pipeline
The artificial pancreas — a blood sugar monitor and insulin pump system that eliminates the need for finger pricks and injections — has been the holy grail of Type 1 diabetes care for the past decade. Already on the market in Europe, the artificial pancreas apparently will debut in the U.S. in 2017. But what's next? I expect quick advances based on the miniaturization of key components and alternative sourcing. What if the entire system was reduced to the size of a Band-Aid, and power was generated from the body's natural movement rather than externally connected batteries?
Programs to shift chemotherapy treatments from cancer treatment centers to patients' homes are already underway in Australia and other countries, with the widespread adoption of oral care therapies and more traditional infusion-based care. Also in progress is research on solutions that can reduce the need for professional nursing staff in the administration of therapies, through modifications of the drug delivery mechanism allowing targeted and controlled release. This could be a reality in less than ten years' time.
But what do these advancements in in-home care mean for the other major stakeholders in the care ecosystem, the caregivers (meaning family members and visiting professionals) and point-of-care professionals (doctors and nurses)? More importantly, how do we ensure true seamlessness?
Convenience and reliability are key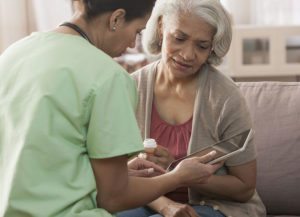 Eighty-seven percent of adults age 65 and older say they prefer to stay in their homes, living independently but with the knowledge that a caregiver or family member is always close by in times of need. Medical innovations like those described above offer the opportunity to track and report relevant health data, and to trigger notifications, reinforcing meaningful connections that are actionable. For the patient, the discreet nature of these transmissions of data takes the shame and embarrassment out of reporting on themselves or reaching a critical stage where they must ask for help. Caregivers, meanwhile, aren't forced to pry and guess and can trust the data and its inherent objectiveness.
Automated data collection improves not just the quality of information but the quantity, expanding or focusing the treatment options that physicians can offer. Tracking the data over time provides a clearer set of historical trends that can drive better, more informed treatment recommendations. Daily monitoring of blood pressure and heart rate, as opposed to readings captured only at office visits, is more helpful to a primary care physician who's trying to determine whether a cardiology consult is warranted. ("White coat hypertension," or stress triggered by a medical exam, can act as a false positive.) Indicators of a progressive loss of balance (recorded by a wearable) would suggest that the patient see a neurologist or perhaps schedule an MRI.
The entire healthcare industry is grappling with powerful and seemingly incompatible pressures: to provide better care to all while keeping costs down. Data collection that is convenient, reliable, and above all, seamless, offers nearly endless opportunities to make great strides toward both goals, benefitting those who provide care and those who need it.
---
Learn more about Nottingham Spirk's expertise in medical device design.
Contact Nottingham Spirk to discuss how your organization can take innovation to the next level.
---
About us: Nottingham Spirk is a business innovation and product design firm with an unrivaled record of delivering disruptive consumer goods, medical devices, and packaging design solutions to market. We collaborate with Fortune 1,000 companies, funded start-ups and non-profit organizations to discover, design and execute product programs and strategic business platforms that will wow customers, grow markets and generate new revenue streams. Learn more about what makes us different here.