By Bill Nottingham
Autonomous vehicles were the headline-grabbers at the 2018 Consumer Electronics Show. Lyft offered self-driving taxi service from the Las Vegas Convention Center to the hotels. In this case "self-driving" included a pilot and co-pilot in the front seat, as the service was also for research. But clearly autonomous vehicles are very close to reality.
There were many other exciting technologies and products in the vast halls almost covering all of downtown Las Vegas. Here's an overview of some that caught my eye.
Voice Control is mainstream.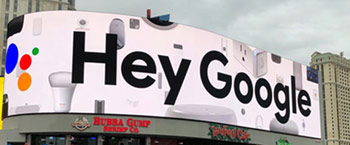 Released during CES, the Smart Audio report from NPR and Edison Research confirmed what we saw on the showroom floors: voice control is not a fad. There are now 39 million Amazon Echos, Google Homes and the like in American households, and the adoption rate over the first three years has been slightly better than that of smart phones. Even more telling: "64% of owners who plan to buy additional Smart Speakers want to use them to control smart home devices."
Voice-activated devices are not just gadgets anymore. Very soon, non-responsive devices may start to seem "quaint," as Scotty put it in Star Trek IV: The Voyage Home. But to paraphrase our advice on developing IoT products: You can't just "put a mic in it" and expect it to sell. The devices that catch on will be those that are genuinely easier to use with voice activation and provide more benefit than a manually operated alternative. The Alexa-based Verdara Voice Lighted Mirror from Kohler is a good (if high-end) example.
Smart Homes & Smart Neighborhoods
As voice and improved AI usher in the long-promised "smart home" era, the logical next step may be the smart neighborhood. Vivint's Streety is an app that will allow neighbors to share access to their outdoor security cameras. Ring is offering something similar with its Neighborhood network, which allows neighbors to alert each other in real time. Both systems are intriguing new takes on the old neighborhood watch, and timely possible solutions to the rising scourge of "porch pirates."
Stunning Visual Displays
As in previous years, I was blown away by the quality of screens at CES. This year, however, the advances were not just in image quality, but in portability. LG showed off a 65-inch OLED display that's thin and flexible enough to be rolled into a cylinder when not in use. Samsung's The Wall features a "module-based, bezel-less design" so that "consumers can customize their television sizes and shapes to suit their needs." Imagine tiny, LEGO-like LEDs delivered to your home, where you assemble them at whatever dimensions you like, even covering an entire wall.
LG's OLED Canyon was a 90-foot winding path between walls made up of 246 large screens displaying breathtaking views. Walking through it, I thought about the possibilities this technology offers to certain brick-and-mortar retail locations to create experiences that could help them counter losses to online vendors. Other options: the Kino-mo Hypervsn Wall, which creates hologram-like images with fans, and Intel's indoor Shooting Star light-show drones.
Wireless Power Charging
With the launch of the iPhone X, Apple integrated inductive wireless charging. At CES, companies like Energous and Powercast demonstrated wireless power charging for small consumer devices like watches, headsets and keyboards, spanning inches to several feet from the power source.
Touch and Feel Virtual Objects in Mid-Air
With the growth of Virtual Reality, much has been developed for the visuals. The sense of touch will only make the experience more real. Previously, haptic technology has been used to create a sense of touch by applying forces, vibrations or motions with device dongles on the fingers. At this year's CES, UltraHaptics introduced mid-air haptic technology that requires no hand attachments.
Accessibility Tech
Inspired by Google Glass, the OrCam MyEye 2.0, gives vision to those individuals with limited sight or no sight at all. A slim, lightweight smart camera that attaches to glasses, the MyEye reads and "sees" for people with vision impairments. It can read text aloud to the user and recognize a wide range of objects, including product bar codes and dollar bills. It can even remember people's faces.
The Whill Model Ci smart wheelchair is lightweight (115 pounds), quick (5 mph) and remarkably stable over tricky surfaces like grass. It also disassembles easily for transport or storage. It's an excellent example of rethinking everything about a device, not just how many new features can be added.
And Nissan offered a glimpse of emerging technology that eventually could be life-changing for some people with severe physical challenges: Brain-to-Vehicle, or B2V. Nissan claims that B2V can "interpret signals from the driver's brain, promising to speed up reaction times for drivers." For now, however, B2V is Nissan's option for people who won't want to relinquish all control to their cars, when that becomes possible.
If you were at CES and want to share your finds off the beaten paths, you can find me on Twitter, @billnottingham.
---
Contact Nottingham Spirk to discuss how your organization can take innovation to the next level.
---
About us: Nottingham Spirk is a business innovation and product design firm with an unrivaled record of delivering disruptive consumer goods, medical devices, and packaging design solutions to market. We collaborate with Fortune 1,000 companies, funded start-ups and non-profit organizations to discover, design and execute product programs and strategic business platforms that will wow customers, grow markets and generate new revenue streams. Learn more about what makes us different here.