Three products designed by Nottingham Spirk are in the running for 2016 Edison Awards, which recognizes innovation.
Two of the products — the Troy-Bilt FLEX and the Cub Cadet Hauler — were developed with partner-client MTD Products, also based in Ohio. The FLEX is an outdoor power equipment system with a wheeled base that connects to multiple "attachments," including a lawn mower, snowblower and power washer (with more options coming in 2016). The Hauler is a sturdy two-wheeled cart with collapsible sides. Both products helped MTD respond to a major obstacle for consumers considering yard equipment purchases: storage space.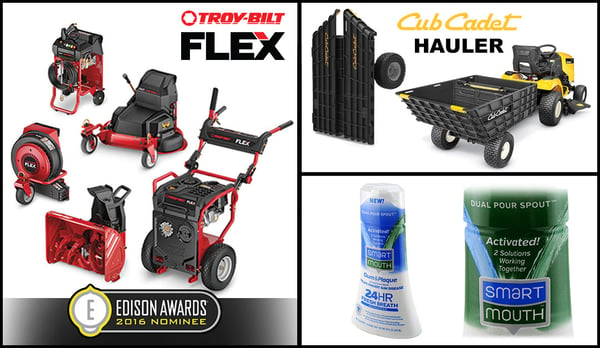 A small footprint is also a selling point for SmartMouth Mouthwash, from Triumph Pharmaceuticals. Most mouthwashes just kill germs which multiply again in about an hour. SmartMouth promises 12-hour fresh breath by also controlling sulfur gas, the real culprit. This requires mixing two liquids right before using them, but consumers don't want to buy and fuss with two bottles. So we designed a unique dual-pour container that keeps them separate until you're ready to rinse.
The mission of the Edison Awards is "to be a leader in globally recognizing, honoring and fostering innovation and innovators to create a positive impact in the world. Our vision is continually guided by the legacy and vision of Thomas Edison and his Menlo Park team that successfully brought an unprecedented number of innovations to the market."
Nottingham Spirk won two Edison Awards in 2014 — a Gold for the Medtronic CardioInsight EC Vue heart-mapping system, and a Bronze for the Similac SimplySmart bottle.