By Sonja Carberry for Investor's Business Daily.
Idea people think inside and beyond the lines. How they structure creativity:
Practice originality. In 1972, industrial design grads John Nottingham and John Spirk decided to forgo Fortune 500 company jobs to launch their own invention business in a Cleveland garage. "We just started creating innovative products," Nottingham told IBD. Since then, their firm — Nottingham Spirk — has amassed more than 1,000 patents that have generated $50 billion in revenue for client companies.
Get together. Nottingham and Spirk apply a vertical innovation approach at their 60,000-square-foot facility. Every needed discipline — research, strategy, design, engineering, patent, prototyping — is staffed. "Because we do it all under one roof, we are able to do it faster," Nottingham said. "Nobody puts it together like us."
Mix it up. To make something completely different, try "taking something from one field and applying it in another field," Nottingham said. The duo took the SpinPop, a spinning lollipop they developed in the mid-1990s, and applied the engineering to the toothbrush industry. They noticed that Oral-B was dominating the market with a $5 toothbrush. Nottingham Spirk's brainstorm: "How about a motorized toothbrush for $5?" Their Dr. John's SpinBrush made a big splash, and Procter & Gamble (PG) bought it for $475 million in 2001.
Find voids. A trick to making something completely fresh? "Look for what's not there," Nottingham said.
Also, focus on who you're not reaching. "You have more noncustomers than customers," he said.
Test, test, test. The soft launch — debuting a product in a single chain or limited geographic area — is essential. "If you fail small, you reconstitute it and go back again," Nottingham said. "Once we get it right, we blow it out nationally."
Separate them. Company chiefs often ask their product teams to disrupt their own creations. That's a mistake, according to Nottingham.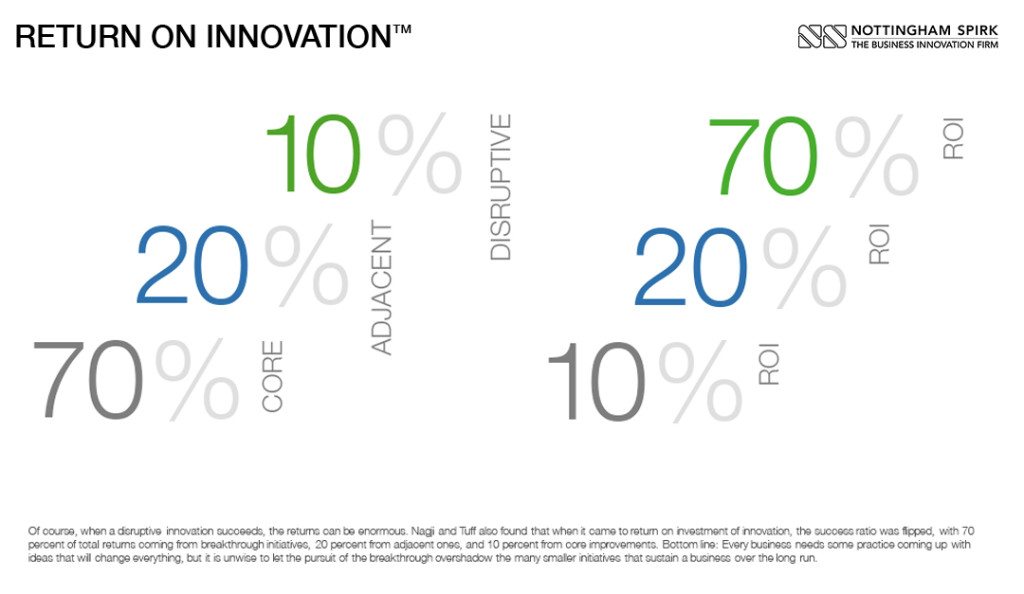 His advice: Keep one team focused on the core business. Then "have a separate team focused on disruption and innovation." Put that second team in a separate building. Some companies hesitate to dedicate people and resources to big-leap thinking. "You know who disrupts them? Someone else in a garage somewhere," Nottingham said.
Speed it up. Firms can also drag out the innovation process. While working at Alphabet's (GOOGL) Google, designer Jake Knapp had this realization about efficiency, "My best work happened when I had a big challenge and not quite enough time." He developed what he called a sprint session – a structured week of focusing on a problem and prototyping a solution. One such five-day stretch resulted in Google Hangouts, a videoconferencing app.
Compress efforts. "Sprint," Knapp's book with John Zeratsky and Braden Kowitz, details the process:
Monday. Map out the problem and target an area to attack.
Tuesday. Put competing ideas on paper in sketch form.
Wednesday. Decide on a testable hypothesis.
Thursday. Build a realistic prototype.
Friday. Try it out.
Such sprints caught on within Google and have been used for developing products, marketing strategies and company names.
Zip forward. Knapp applied the same approach with GV, formerly Google Ventures, the search giant's venture capital division. The idea is to help bootstrappers quickly determine if they're on the right track.
"Working together with our startups in a sprint, we shortcut the endless-debate cycle and compress months of time into a single week," Knapp wrote.
Original article from Investor's Business Daily.