HELPING MANUFACTURING BUSINESSES IMAGINE THEIR FUTURE AND MAKE IT A REALITY

EY-Nottingham Spirk Innovation Hub Features:
Facility with capabilities and assets from EY-NS and key ecosystem partners to help clients address Factory-of-the-Future manufacturing, supply chain and innovation challenges.

Center of Excellence in which world-class industrial manufacturing equipment, products, hardware, software and services can be found.

Employs the EY-NS methodology to increase strategy development, reduce risk and accelerate solution design and implementation.
---
The Innovation Hub is a collaboration between two innovation giants. It combines Nottingham Spirk's Vertical Innovation™ design and product development offerings with EY's digital, manufacturing and wavespace™ capabilities to help businesses drive efficiency, resiliency, agility and growth throughout the end-to-end value chain.
The multidisciplinary design center will help manufacturers revolutionize business models and thrive in rapidly changing business environments.
EY has assembled an ecosystem of technology and manufacturing alliances to create an immersive manufacturing environment to develop solutions addressing the sector's biggest challenges and opportunities.
The multidisciplinary approach will combine in-person and virtual experiences, featuring technology collaboration tools, live factory-of-the-future production and end-to-end supply chain interactive experiences around electric vehicles and connected products as well as a studio for rapid prototyping.
The Innovation Hub will be located in a 60,000 sq. ft. facility located at Nottingham Spirk's Cleveland offices. The physical space is being brought to life by Cleveland-based City Architecture and Independence Construction, and will officially open in Fall 2021. Read the EY-Nottingham Spirk Innovation Hub Press Release.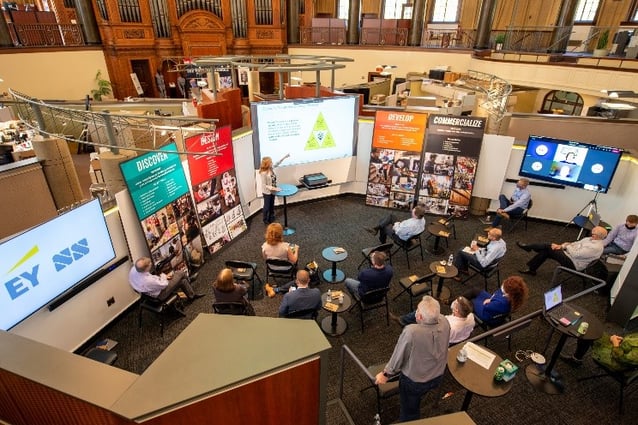 "Organizations make confident decisions when they understand the future they are preparing for and the tools that will help them succeed."
-- John Nottingham, Nottingham Spirk Co-President and Co-Founder
"The EY-Nottingham Spirk Innovation Hub helps companies move from abstract conversation and solutioning to specific, highly-tailored experiences which unlock the power of new technologies and capabilities in very pragmatic ways for our clients."
-- Jerry Gootee, EY Global Manufacturing Leader